IDBI Marathon : An experience to cherish for life
It was my first time being on the organising side of a Marathon event and it was really amazing to see such enthusiasm amongst the people. Not only the participants but the organising team of IDBI was full of energy too. Their energy and enthusiasm made us realise that we play an extremely crucial role in the event.
We reported at the venue at 4am in the morning when all the arrangements were being set up. It was interesting to be able to watch out for the runners & guide them. It was indeed amazing to see participants flocking in From all kinds of age groups. Honestly, it felt wonderful encouraging them & motivating them during the run.
After the run was over, I was specifically assigned in the hospitality department, where I had to look after the proper management of refreshments.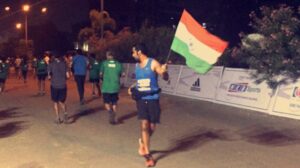 We were a team of 5 people catering to around 50 people at the same time & that's exactly when we realised how fundamental it is for a team to work together & efficiently. As the participants were exhausted post the run, some of them were naturally a little cranky & learning how to tackle such stressful situations and staying calm was genuinely a treat.
The event was graced by none other than Sachin Tendulkar sir, as the chief guest. However, unfortunately as we were a little too occupied at that moment & busy in our task, we missed an opportunity of meeting him in person.
It wasn't just the learnings but the whole experience that has made a special place in my heart for the rest of my life.
Rohan Gulaty
FY MSM A