IISM Student's Industrial Visit: North India Gateway, 2019
31/12/2018 proved out to be a lucky day as we got a mail which said that our institute, International Institute Of Sports Management has announced an Industrial Visit to Amritsar-Dharamsala-Manali-Chandigarh.
It was just a matter of days since we would enroute on an amazing journey.
The much awaited day was already here and we were ready with our bags to embark on this beautiful journey.
Amritsar, we knew that our itinerary would be hectic as the days were less and the places to visit were humongously massive.
Our trip kicked off by visiting the Iconic Wagah Border, as our skins shrivel and sweat drips from our foreheads, the Indian and Pakistani soldiers have it worse with their thick, pressed uniforms and ostentatiously colourful headgear. From where we are sitting, soldiers march and display strength via their exaggerated movements, locals cheer with nationalistic fervour and girls go onto the stage to dance like free birds.
The Wagah Border Ceremony, located on the highway between Amritsar and Lahore, is definitely something I have never seen before. The competitive cheering between the two nations, with each shout getting louder on both sides, also gave me chills. The atmosphere was intense and filled with nationalistic fervour, and I have never witnessed anything like this before.
Religion or faith have no bar here. You could even be non-religious. Yet, the sanctity of Harmandir Sahib, popularly known as Golden Temple will touch your heart. It is located in the city of Amritsar in one of the northern states of India, Punjab.
We spent 2 hours at the Golden temple. Spent hours sitting by the lake on the sparkling clean floor, admiring the beautiful Golden Temple in front. We could just feel the devotion in the air.
We were lucky enough to witness the beauty of Golden Temple at the night as many say it looks the most beautiful during the late evening hours, it is bathed in beautiful yellow and blue lights and the beauty is something one cannot put into words.
On the next morning we proceeded towards the Universal Sports Industries in Jalandhar – the industry is known to cater to the needs of all sports and leisure enthusiasts. They are popularly known to manufacture : leather punching gloves, head guard, focus pads, punching bags, sports wear and boxing gloves. It is also recognised as the export house by the government of India. Their Universal Boxing equipment is approved by Indian Amateur Boxing Federation, American Boxing Federation and also European Boxing Federation. Their equipments are currently used in all national competitions. We got to learn about various products related to boxing. A day out which proved out to be very helpful for all sports enthusiasts.
The next destination on paper was Dharamsala. After a 12 hour bus journey we finally reached the destination. And when we open our eyes in the morning we see mountains covered with snow, a view one won't be able to forget, ever.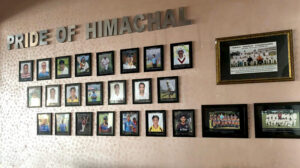 Later in the day we visited the Monastery of Dalai Lama : Dharamshala is the hotbed for Tibetan Buddhism not only in India, but in the entire world and hence a monastery tour is to be definitely experienced while in Dharamshala. Serenity, peace and the most holiest site one can feel all three at once in this monastery.
The next place to visit was the prettiest stadium in the world which is also known as the HPCA Stadium. Being a cricket fan for formative years this stadium has been a dream place to visit.
The rolling meadows, snow-covered mountain peaks and the oak and coniferous vegetation just adds to the sublime natural beauty of the Himachal Pradesh Cricket Association Stadium.
We, the students at IISM we're lucky enough to see the Indian Dressing Room at the HPCA Stadium only few people get the privilege to visit any dressing room.
We were then taken to the Sports Authority Of Team India and the Sports Training Centre (Himachal Pradesh) where we were lucky enough to meet a bunch of girls who represent India in various sports. Interacting with them and getting to know more about them was just priceless.
Over the years, Dharamshala & McLeodganj have steadily become a most favoured destination for travellers. A night at the McLeodganj Mall Road was one night to remember as we got some leisure time to walk on the streets.
It was time to bid adieu to Dharamsala as it was time to embark towards a new destination – Manali. It was time for a night travel which was more than 12 hours.
The next morning, we woke upto a surreal view. A view where mountains were completely covered with fresh snow, the temperature was -3° it was chilling. After few hours of rest we headed towards the Hidimba Temple : Hidimba is one of the most popular deities of the region. People visit this temple not only to worship, but also to marvel at the incredibly superb kind of construction it features.
We were given some time to relax and so we decided to stroll at the Mall Road in Manali. An evening spent with friends in freezing 2° is something each one of us will value and remember for a long long time.
It was time to leave this beautiful place and enroute towards the next destination which was – Chandigarh.
The place to visit in Chandigarh was an important place to visit from a perspective of a sports management person. We visited the Sports Authority Of India (Chandigarh). We were awestruck by seeing the facilities which are being provided to our budding sports persons. There were different courts, arenas and open space for each and every sport.
We then headed towards our final destination from this trip the Rock Garden which is also known to be a must visit place in Chandigarh. Chandigarh has the distinction of having a unique world-acclaimed Rock Garden. It consists of art objects, fashioned from industrial and urban waste. The concept is daring, the appeal perennial. Visitors leave in admiration, only to return again.
A trip which will stay close to our hearts for a long long time. A trip where we gained a lot of knowledge and a trip where a lot of new friendships took place.
I would like to extend a heartfelt THANKYOU to IISM for hosting such a fun and informative industrial visit.
Also, not to mention the concept of 'not all good things last forever' was given by you dear, Industrial Visit 2019.
Ms. Prajakta Bhawsar