Why a career in sports management is an upcoming new thing in India? ​
After the covid-19 restrictions, it was said that the Indian sports industry will be growing at an estimated CAGR of 9.6% between 2021-2024. The revenue expected to be generated during this period was about $150 billion.
Covid-19 is responsible for booming the online gaming sector beyond limits and creating a league of its own known as Fantasy Sports.
We all have witnessed India's performance in the 2020 Tokyo games which was astonishing and resulted in the highest medal tally ever. India as a country is now confident that sports is an upcoming career choice not only if you want to become an athlete but also a Sports Management professional. ​
2020 Tokyo games showed that our athletes have leveled up over the past few years in their performances in various sports, which convinced the government and gave them the confidence to invest in sports for the long term.
It was back in 2018 when the government decided to promote sports in their own ways by initiating programs like Khelo India Youth Games, Khelo India University Games, Target Podium Scheme to invest in the young upcoming talents at the grassroots level so that they can get into the right direction to pursue sports as a career and represent India at an international level by getting proper training and facilities. ​
With our athletes, amazing performances in the 2020 Tokyo games and their achievements have inspired many young sportspersons to enter the field of sports and take their dreams forward. This will not only uplift the sports industry but also result in a requirement for more Sports Management professionals within the industry. ​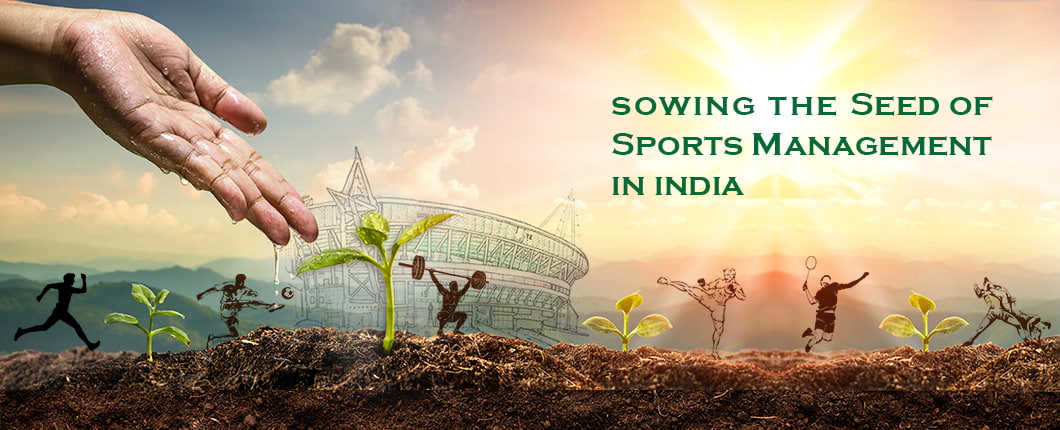 Sports Management as a career is very vast as it offers varied verticals within the sports industry to choose from. Some of these sports management verticals in the sports industry are mentioned below:
League / Team / Athlete Management
Venue Management
Managing Associations / Federations
Handling the Operations / Logistics
Sports Grassroots Development
Handling Media & Communications
Sports Event Management
Business Development, Sales & Client Servicing
Digital Marketing
Electronic & Digital Media -Programming
Sports Data Analytics
Sports Retail
Sports Tourism
Sports Psychology
Nutrition
Sports Law
Coaching
A degree in Sports Management provides an individual with the required skill set as well as introduces them with concepts of Management, Finance, Marketing, and Law related to the sports industry.
Sports Management showcases that how you can overview the business side of a sports organization along with using the latest trends and technology. You'll develop a broad set of skills, among which the most important ones are critical thinking, problem-solving, communication, and attention to detailing.
All of these skills will come in handy in any situation. Whether you are negotiating for a sponsorship contract for an event or a multi-million-dollar deal for an athlete or team you may represent. These abilities that you develop during the learning stage in Sports management are very essential.
IISM was established 11 years ago and was the pioneer Institute to introduce Sports Management Education in India. Till today, IISM has trained more than 1800 sports management heroes successfully and proffered to the sports industry. These students are now a part of esteemed and top organizations in the sports industry.
IISM vision and mission as an institute is to bestow the sports industry with competent professionals who would contribute majorly in the evolution of the sector.
IISM is India's first professional sports management institute to offer courses like Bachelor's in Sports Management & Master's in Sports Management which are in collaboration with the University of Mumbai & GICED. And Post Graduate Program in Sports Management, an 11-Months autonomous program.