Tata Mumbai Marathon 2023 in a Nutshell – Impact Report
The Tata Mumbai Marathon 2023, a standout event on India's sports calendar, unites individuals from across the globe in a remarkable display of athleticism and camaraderie.
Beyond being a mere race, the Tata Mumbai Marathon (TMM) represents a grand celebration of the indomitable human spirit and endurance. Since its modest beginnings, this event has evolved into one of Asia's largest marathons, drawing participants, enthusiasts, and spectators from all walks of life.
From its humble origins to its current status as a world-class marathon, the TMM embodies the essence of Mumbai itself—a city where diversity, resilience, and determination seamlessly converge on its bustling streets, crafting an unforgettable experience for all those involved.
In this blog, we embark on a journey that traces the inception of this prestigious race and subsequently explores its profound impact on society, the economy, public health, and the environment.
Now, let's delve into the captivating history that underpins the Tata Mumbai Marathon.
History of Tata Mumbai Marathon
The TMM stands as one of Asia's most prestigious and widely loved marathons, drawing thousands of runners from both India and around the world each year. Since its inception in 2004, this event has grown to symbolise the heart and soul of Mumbai's spirit and culture.
Taking inspiration from the iconic London Marathon, the organisers, Procam International, were confident that Mumbai would wholeheartedly welcome a similar event.
The inaugural edition, titled the 'Standard Chartered Mumbai International Marathon,' enjoyed the sponsorship of Standard Chartered Bank for a remarkable 14-year run, extending until 2017. In 2018, the Tata Group and Tata Consultancy Services assumed sponsorship for the subsequent 10 years, breathing new life into the marathon's legacy.
The TMM boasts a diverse array of race categories to accommodate runners of all abilities: the marathon itself covering 42.195 km, a half marathon spanning 21.097 km, the dream run covering 6 km, a senior citizens' run of 4.3 km, a champions' event for individuals with disabilities covering 2.4 km, and a timed 10K run.
Despite facing a two-year gap in 2021 and 2022 due to the COVID-19 pandemic, the marathon made a triumphant return in 2023, with a heightened sense of enthusiasm and stringent safety measures. Maharashtra Governor Bhagat Singh Koshyari ji flagged off the event from the historic Chhatrapati Shivaji Maharaj Terminus (CSMT) in Mumbai.
The 2023 edition witnessed a heartwarming display of courage and resilience from senior citizens, persons with disabilities, and cancer survivors who participated in the race. Additionally, the marathon serves as a bridge connecting India's elite athletes with their international counterparts. The event also attracts celebrities, social activists, and corporate leaders who run for a multitude of causes and charitable organisations.
Fig 1. Increase in the number of participants over the years
Beyond being a mere sporting spectacle, the TMM embodies the spirit of running and resilience. It provides a platform for individuals to push their limits, support one another, and revel in the vibrant energy of Mumbai. This marathon brings together people from diverse backgrounds, cultures, and walks of life, uniting them through their shared passion for running and their profound love for the city.
Let's look at some interesting facts about the TMM 2023.
Interesting Facts
9480 participants, both in-person and virtually, came from beyond the MMR region and from all over the globe to participate in the Marathon.
The half marathon on the ground attracted more than 11,000 runners.
When both the physical and virtual participation options are taken into account, there is a 21% rise in Dream Run participation from 2020.
48% of the onground category is made up of foreign runners from Bangladesh, Ethiopia, and the United States.
A considerable 43% of participants in the TMM virtual run are from the United States.
Participants under the age of 39 exhibit a particularly passionate and vivacious demographic, showing their love for running and totally embracing the event's ethos.
84% of all participants from within the country are from Maharashtra, with 73% of them coming from Mumbai alone.
Mumbai has seen a 44% increase in participation since 2016.
More than 71% of the participants had an annual salary of Rs. 10 lakhs or more.
Sixty-two percent of attendees in the on-site version spend between Rs. 10,000 and Rs. 50,000 on meals and travel costs.
56% of participants said they spend between Rs. 10,000 and Rs. 40,000 annually on fruit juices and nutritional supplements.
81% of runners said they preferred to buy their sneakers in person rather than through an online vendor.
3 crore rupees' worth of extra employment possibilities were directly produced by the event.
While 49% (123 NGOs) of the NGOs were sponsored by individual fundraisers, 34.5% (87 NGOs) of the NGOs were backed by corporate teams.
73% of runners have collected money for the first time since TMM 2023.
9% of TMM participants said they were interested in using the platform to support a particular NGO by generating money.
Since 2004, there have been 355 Cr+ donated to charity.
Over 39% of runners in outlying areas have been running for ten years or more.
5% of participants say they've successfully persuaded up to three people to adopt an active lifestyle.
Running was a daily activity for 62% of the individuals who were trying to lead healthy lives. In addition, 18% and 13% of individuals kept running as a pastime and a passion.
80% of runners said that their medication use has decreased as a result of their habitual jogging.
Over 1000 seniors participate annually in the Senior Citizen category, which has had constant participation.
1% of participants belong to running clubs or groups.
Let's have a look at the remarkable number of enthusiastic participants who have played a pivotal role in making the TMM a resounding success.
Number of Participants
Each year, the TMM bears witness to a remarkable convergence of participants hailing from India and abroad. In the 2023 edition, an astonishing 59,497 individuals took to the streets in pursuit of their running goals, with 216 of them coming from overseas destinations.
Here's a breakdown of the number of runners in each category:
Marathon: 9,480 participants
Half marathon: 14,960 participants
Open 10k: 8,637 participants
Dream run: 23,902 participants
Senior citizens' run: 423 participants
Champions with disability: 1,035 participants
Fig 2. Total number of on ground and virtual participants in TMM 23
Among this vast assembly of participants, a notable 84% hail from the state of Maharashtra, with a staggering 73% representing the city of Mumbai itself. This surge in local participation reflects a remarkable 44% increase compared to the 2016 marathon.
Further analysing the participant demographics, it's evident that individuals from Mumbai, Bangalore, Chennai, Kolkata, and Delhi collectively constituted a significant 81% of the total runners. Following Maharashtra, the participants from Karnataka, Delhi-NCR, and Gujarat emerged as the top three contributors in terms of both on-ground and virtual participants.
Fig 3. State-wise participation of runners (except Maharashtra)
Delving into the international sphere, outstation runners from the United States, Ethiopia, and Bangladesh formed a substantial 48% of the on-ground category. Notably, the United States held a prominent position, accounting for 43% of participants in the TMM virtual run.
Fig 4. Participation of international runners in TMM 23
These impressive figures not only underscore the marathon's undeniable popularity but also emphasise its role as a global platform that unites people from diverse backgrounds in the spirit of running.
Gender Bifurcation
In the on-ground segment of the TMM, a total of 55,212 participants enthusiastically joined the run, comprising 39,266 males and 15,946 females. In the virtual run category, 4,285 dedicated runners participated, with 3,508 being males and 777 females.
Comparing these statistics to the 2016 Mumbai Marathon, where 30,064 males and 10,181 females participated, the growth in participation is notable. Male participants witnessed a substantial 42% increase from 2016 to 2023, while female participants experienced an even more impressive 64% increase.
Fig 5. Number of male & female runners participating in TMM
Here's a detailed gender-wise bifurcation for both the on-ground (OG) and virtual (V) categories across various race lengths:
Marathon:
Male participants: 8,260 OG, 332 V
Female participants: 865 OG, 23 V
Half Marathon:
Male participants: 10,883 OG, 1,360 V
Female participants: 2,543 OG, 174 V
Champions with Disability (CWD):
Male participants: 778 OG
Female participants: 317 OG
Open 10k:
Male participants: 3,810 OG, 1,431 V
Female participants: 3,029 OG, 367 V
Dream Run:
Male participants: 14,783 OG, 385 V
Female participants: 8,521 OG, 213 V
Fig 6. Number of participation- gender bifurcation
These statistics not only reflect the growing enthusiasm for the TMM but also highlight the increasing participation of both male and female runners, showcasing a thriving running community that transcends gender boundaries.
Fig 7. On ground participation
Fig 8. Virtual participation
Fig 9. Age-wise bifurcation of runners
Exploring the finishers time at the TMM
The Tata Mumbai Marathon offers a captivating breakdown of participants by category. From elite athletes vying for top honours to dedicated individuals running for charitable causes, each category adds its unique essence to the event.
Through meticulous analysis, we unveil the time durations and finishing times achieved by male and female participants in each category, offering a thorough insight into performance dynamics. This data showcases the outstanding accomplishments and unwavering commitment demonstrated by both male and female runners, underscoring the dedication and exertion invested in completing the race.
Fig 10. Finisher's time of marathon runners                       
Fig 11. Finisher's time of half marathon runners
Fig 12. Finisher's time of open 10k marathon runners
Social Impact
Beyond being a premier sporting event, the TMM has etched a profound impact on society, emerging as a powerful catalyst for positive change while championing numerous charitable causes. In this section, we will delve into the marathon's remarkable contributions to bettering people's lives.
One of the remarkable facets of the TMM is that it empowers runners and organisations to raise funds or make donations to charities of their choice. In the year 2023, the marathon successfully raised an impressive Rs. 40.68 crore for various foundations and charitable trusts. Impressively, 73.90% of the runners embraced the opportunity to raise funds for charity, while 26.10% opted not to engage in fundraising activities.
A total of 252 non-governmental organisations (NGOs) joined hands in raising funds for 12 distinct causes, with a noteworthy 49 NGOs venturing into fundraising for the very first time.
In response to the unique challenges posed by the COVID-19 pandemic, a dedicated fundraising initiative brought together 503 individuals who collectively raised an impressive Rs. 5,50,01,987.22 for the benefit of 87 NGOs.
The inclusion of corporate teams played a pivotal role, affording employees the opportunity to partake in the marathon while simultaneously representing a charity registered with United Way Mumbai, the philanthropic partner of the event. In the year 2023, a total of 177 companies rallied together, forming 278 teams, and contributed a substantial Rs. 17,00,95,000, constituting a noteworthy 41.81% of the total funds raised.
Furthermore, in this edition, 18 corporate entities participated with 38 teams, collectively raising Rs. 1,65,34,155.5 and contributing Rs. 2,41,94,709.5 in support of 13 NGOs. Of note, 34.5% of the NGOs (87 NGOs) received vital support from corporate teams, while 49% (123 NGOs) found unwavering backing from individual fundraisers. The deployment of charity bibs emerged as a potent tool for fundraising, with 71% (180 NGOs) utilising them to amplify their fundraising efforts.
Digging deeper into the statistics, it's worth noting that 26.10% of runners possessed prior experience in fundraising before participating in the TMM, while an overwhelming 73.90% embarked on their inaugural fundraising journey through this marathon. Significantly, 51.90% of runners expressed a keen interest in fundraising to create a positive societal impact, while 23.30% remained disinterested and 25.20% remained undecided on the prospect of fundraising for charitable causes.
Fig 13. Runners who are the change makers
Since its inception in 2004, the TMM has cumulatively raised an astonishing Rs. 357.21 crore, benefiting a multitude of NGOs. Even amidst the formidable adversity posed by the global pandemic, the TMM rose to the occasion, orchestrating a special fundraiser for COVID relief in 2022, which garnered a substantial Rs. 5.71 crore. The unwavering dedication of the event to charitable endeavours has supported and uplifted 252 NGOs to date.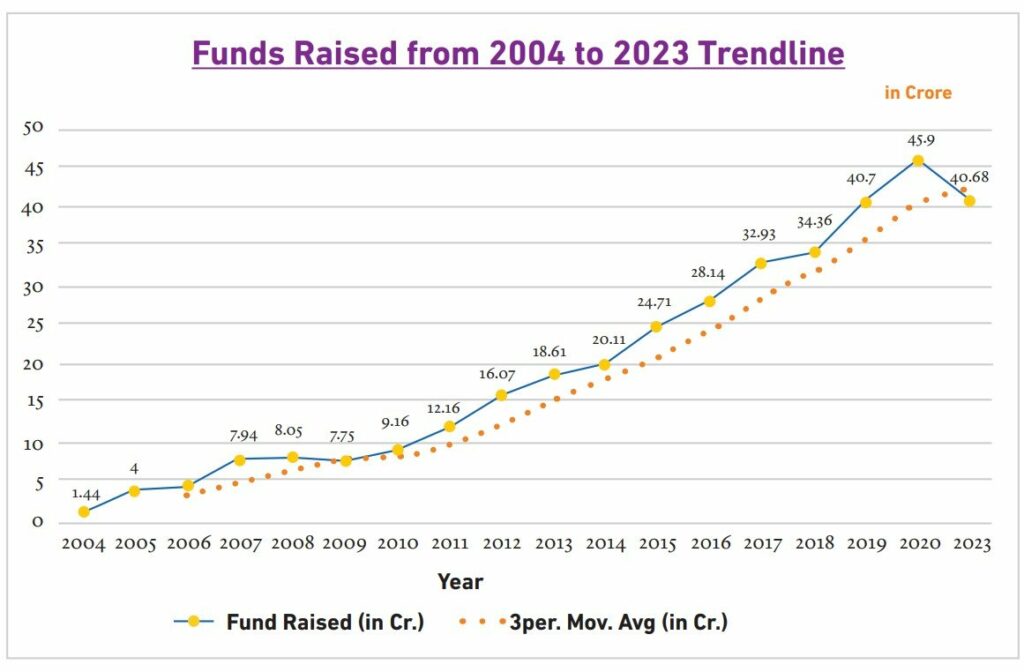 Fig 14. Funds raised from the first edition of marathon till 2023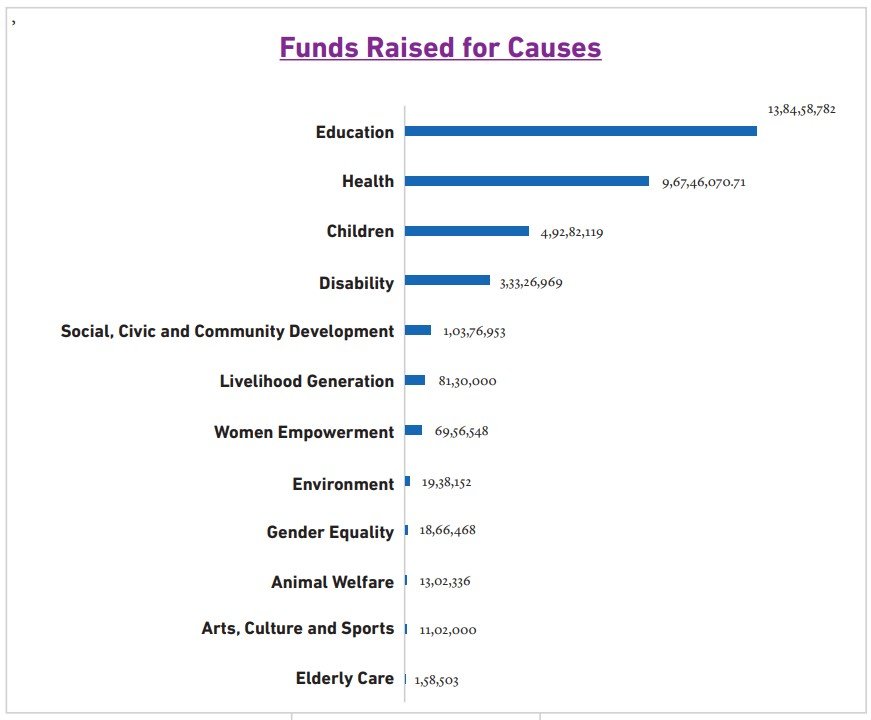 Fig 15. Funds raised for different causes
In terms of funding distribution, education emerged as the leading recipient, securing Rs. 13.84 crore, closely followed by health, which received Rs. 9.67 crore. Other notable causes receiving support included Aid for Children, the Disabled, Animal Welfare, and Gender Equality, among others. A standout among the fundraising NGOs was Shrimad Rajchandra Love and Care, which raised an impressive Rs. 5.5 crore. Additionally, United Way Mumbai, a prominent NGO, directed its efforts towards education, youth employment, and the empowerment of marginalised children, particularly girls, securing Rs. 2.63 crore. The Central Chinmaya Mission Trust focused on education, rural development, and women's empowerment, successfully raising Rs. 2.59 crore.
The reach of the TMM among the masses has been on an upward trajectory. In 2020, the event reached a total of 168 million individuals, and by 2023, this reach had expanded further to encompass 172 million people. Additionally, the marathon garnered significant mentions, with a staggering 79.802 million in 2020, which surged to an impressive 112.213 million in 2023.
The evaluation of media coverage is crucial in quantifying the impact and value generated through media channels. By assessing exposure and promotional opportunities across various media outlets, organisers gain insights into the reach and effectiveness of the marathon's media presence. Here is the media valuation of the TMM for the past three years:
2019: Rs. 667 crores
2020: Rs. 865 crores
2023: Rs. 993 crores
Fig 16. Media valuation of the marathon over the years
The TMM stands as a shining example of how the power of sports can be harnessed to ignite positive social change. Through its enduring association with a myriad of causes, it continues to inspire individuals to run with purpose, instilling the belief that together we can make a significant and lasting impact on society.
Economic Impact
The economic significance of the TMM transcends the race itself, with far-reaching implications that extend well beyond the finish line. This mega event, drawing participants and spectators alike, serves as a dynamic catalyst for economic growth and development across the local and national landscape.
One of the remarkable features of the TMM is its inclusivity, welcoming individuals from a wide spectrum of income brackets. Whether corporate executives, students, working professionals, or homemakers, the event attracts participants from diverse socio-economic backgrounds. This diverse and vibrant mix of individuals weaves a rich tapestry of experiences and stories, underscoring the universal appeal of the marathon. Irrespective of their income bracket, the TMM offers a common platform for people from all walks of life to converge, challenge their limits, and contribute to the broader community.
Impressively, over 71% of participants in the TMM belong to the income bracket of 10 lakhs or higher. This underscores the event's ability to draw individuals with substantial financial resources. Notably, 62% of participants incur expenses in the range of Rs. 10,000 to Rs. 50,000 on food and travel, reflecting the boost in local and regional tourism and hospitality sectors.
Fig 17.  Annual income of the runners
Additionally, 56% of participants invest in nutritional supplements and fruit juices, with expenses ranging from Rs. 10,000 to Rs. 40,000 annually. Furthermore, a substantial 78% of participants prefer to purchase running shoes only when necessary, contributing to the local sports retail industry.
Fig 18. Runners expenditure on nutritional supplements & fruit juices
The cumulative direct and indirect economic impact of the TMM is calculated at an impressive 249.40 crore. This economic impact represents a substantial 60% increase since 2020, underscoring the event's growing significance in driving economic activity.
Fig 19. Runners expenditure on food and travel for the marathon
Let's now look at some of the direct and indirect economic impacts of TMM.
Direct impact-
Participant expenditure- Participating in the TMM entails a range of costs for both runners and spectators. These expenditures encompass registration fees, accommodation, transportation, meals, and various associated expenses.
Organisational expenditure- The event organisers have to bear expenses such as logistics, event management, infrastructure setup, security, and medical services.
Indirect impact-
Hospitality industry- The rise in occupancy rates for hotels, guesthouses, and lodging facilities is attributable to the influx of both participants and spectators.
Transpiration services- Increased demand for flights, trains, taxis, and other transportation modes as individuals travel to and from Mumbai from within the nation and overseas in conjunction with the event.
Retail & merchandise- Increase in the sale of running equipment, athletic attire, accessories, and merchandise related to running within local shops and enterprises.
Food & beverage- Restaurants, cafes, eateries, and food vendors witness a surge in business from both marathon participants and spectators.
Tourism & attractions- Mumbai has been highlighted as a destination, which can result in potential tourist activities and visits to local attractions.
Media & advertising- Media coverage and promotional efforts aimed at promoting both the event and the city of Mumbai, with the potential to draw more tourists and businesses.
Volunteer opportunities- The event generates volunteer opportunities that offer benefits to the local community and engage individuals in supporting the event. The event directly generated Rs. 3 crore worth of additional employment opportunities.
Medical & health services- Increased demand for medical services, physiotherapy, and sports-related healthcare facilities during and after the event.
Charitable contribution- Fundraising initiatives and charitable donations associated with the event benefit causes and organisations.
Security services- Deployment of security personnel and services, providing employment opportunities for security agencies and personnel.
Sponsorships & partnerships- Businesses and brands associated with the marathon receive exposure and promotional benefits over several months, from the registration launch to race week, race day, and much more.
Employment opportunities- Temporary job openings for event staff, volunteers, security personnel, medical professionals, and other supporting roles.
Equipment & suppliers- Local businesses supplying equipment, signage, timing devices, and other materials required for the event.
Sports & fitness industry- A heightened interest in and engagement with running and fitness pursuits, resulting in advantages for gyms, trainers, coaches, and sports-related enterprises.
Fig 20. Contribution of direct and indirect expenses
In essence, the TMM is not merely a sporting event but a robust economic driver that generates business opportunities, stimulates tourism, and activates various industries. It stands as a testament to the power of sports in fostering economic growth and development, making a tangible and positive impact on both local and national economies.
Health Impact
The impact of the TMM on health and well-being is undeniable. By championing running as a regular activity, the event has encouraged individuals to prioritise their physical fitness, leading to improved cardiovascular health, enhanced endurance, and elevated overall fitness levels.
Regular participation in running events has also contributed to the cultivation of a robust running culture and community, fostering a sense of motivation and support among participants. Beyond physical health, the event has also positively affected mental well-being, with running known for its stress-relieving properties, mood-enhancing effects, and mental clarity.
The marathon serves as a platform for individuals to set goals, challenge themselves, and experience a profound sense of accomplishment and fulfilment.
The statistics reveal a remarkable trend among participants from the Greater Mumbai region, where more than 36% of them have dedicated over a decade to the sport of running. Notably, over 39% of participants who have been running for ten years or more hail from outside of Mumbai, underscoring the marathon's global appeal and influence.
When examining the factors motivating participants, it's evident that motivation sources vary. While influencers, sports icons, and personal dedication play a role, the most significant motivators are family and friends, with 11% and 31.56%, respectively, along with self-motivation at 36.39%.
Fig 21. Motivation factors
A substantial 17.9% of runners had participated in one to five running events before joining the TMM in 2023. Moreover, the positive influence of participants on others to embrace active living is noteworthy, with 43% having influenced up to three individuals, 29.10% having influenced 3-6 people, 15.50% having influenced 6-9 people, and 11.10% having influenced 9-12 people.
Motivation plays a crucial role in sustaining any regular activity, and the post-COVID-19 era has seen a heightened awareness of health, leading individuals to adopt various methods to lead active and healthy lifestyles. For some, it's a passion, while for others, it's a hobby.
An impressive 62% of participants include running as part of their fitness regime to lead a wholesome lifestyle, while 18% and 13% continue running out of passion and hobby, respectively.
Fig 22. Factors responsible for regular running among the participants
The health benefits of running are evident, with 44% of participants believing they have experienced health improvements due to their running routine. Additionally, 23% of participants report feeling higher energy levels as a result of their running habit.
Fig 23. Benefits of active running lifestyle
When it comes to expenditure on nutritious meals and fruits, more than 20% of participants spend between Rs. 10,000 and Rs. 30,000 annually, highlighting their commitment to a healthy diet.
Remarkably, 80% of participants believe that their medication needs have reduced due to their running routines, reflecting the positive impact of running on health.
Fig 24. Impact of regular running
The choice of running surfaces is diverse, with over 52% of runners training on cement roads, 23% on gardens and parks, 14.57% on turfs, and 10.14% on soft mud roads, showcasing adaptability and versatility.
Fig 25. Training surfaces chosen by runners
Furthermore, running clubs, groups, and communities play a significant role in the running experience, with 64.10% of participants being actively engaged in such communities, enhancing the sense of belonging and motivation.
The TMM has not only become a prestigious sporting event but also a powerful force in encouraging and sustaining healthy lifestyles, nurturing both physical and mental well-being, and building a strong and supportive global community of runners.
Environmental Impact
In an era where environmental consciousness holds paramount importance, the TMM is at the forefront of initiatives aimed at reducing its ecological footprint. In this section, we will delve into the eco-friendly practices and initiatives that define this event's commitment to sustainability.
During the TMM of 2023, a total of 13 tonnes of waste were generated. However, the commendable efforts in waste management resulted in the successful recycling of 12.79 tonnes of this waste. The waste materials were meticulously segregated into the following categories:
Flex: 4,236 kgs
Paper scrap: 174 kgs
Tetra pack: 750 kgs
Wooden waste: 749 kgs
Pet bottles: 638 kgs
Cardboard: 491 kgs
Cloth: 153 kgs
Others: 1,872 kgs
Fig 26. Kgs of waste recycled during the TMM 23
Impressively, 52.1% of participants in the TMM actively participated in waste recycling, demonstrating their commitment to eco-friendliness and sustainability.
Fig 27. % of runners committed towards zero waste
The adage that "green habits begin at home" holds true for a significant portion of the participants, with a striking 88.8% of them actively recycling at home. This statistic underscores the broader societal trend of heightened environmental awareness and responsible waste disposal practices.
As part of its sustainability efforts, the TMM provides a bottle refill service during the event. This eco-conscious approach resonated with 56.1% of the runners, who proactively brought their bottles from home, enabling them to refuel and wholeheartedly support the sustainability cause.
These eco-friendly initiatives underscore the TMM's unwavering commitment to sustainability and environmental responsibility, setting a positive example for large-scale events and fostering a culture of eco-consciousness among its participants.
Conclusion
The TMM is not just a race; it's a testament to the power of sport to inspire, unite, and make a positive impact on society, the economy, health, and the environment. As we conclude our journey through this iconic event, we hope you have gained a deeper appreciation for the marathon's multifaceted significance. Whether you're a runner, a spectator, or simply an admirer of human determination, the TMM is an event that transcends boundaries and leaves an enduring legacy.